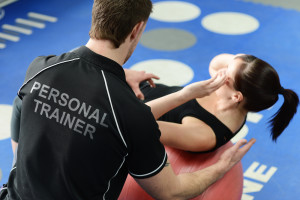 Are you looking for a promising and rewarding career that lets you help others change their lives and stay healthy? Are you interested in how the human body works and the impact of exercise? Are you committed to your own fitness and health? If you're answered yes to these questions, then a career in personal fitness training may be right for you!
With a career in personal fitness training, you can live out your dream and do something you enjoy, all while tapping into a burgeoning market. As people take more interest in their health and wellness, the health and fitness industries continue to grow. Personal fitness training in particular generates about $10 billion in the U.S. each year. Yes, $10 billion!
As a Master Fitness Coach, you'll work in a gym, health club or fitness center, where you'll design personal fitness programs combining exercise, stretching and nutrition. With custom fitness plans and a push of motivation, you'll help others dig deeper to accomplish their fitness goals and live a healthier life. You'll get to work with many different people with different fitness levels and goals, so your work will always be fun, interesting, and rewarding.
If personal fitness training sounds like your calling, then enroll at Boca Beauty Academy! As one of the nation's leading wellness schools, BBA offers a top-rated Master Fitness Coach program that gives students the knowledge and hands-on experience they need to be successful in the field. You'll learn first-hand what fitness trends work and which don't and how diet and exercise impact the body. With this knowledge and experience you can improve others' lives, as well as your own!
BBA provides its students with the training, certification and skills they need for success. In fact, our graduates have scored jobs at the most prestigious health clubs, fitness centers, and gyms in the world. To learn more about our amazing program, visit us online at www.bocabeautyacademy.edu or call our Parkland/Coral Springs Campus at (945) 866-1011.  We look forward to hearing from you and helping you get one step closer to your dream of being a fitness trainer!